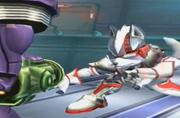 EmoticonWolfXD is one of the antagonists in
The Chronicles Of Pimpachu and Lamp
. As her username implies, she is a Wolf user. She works for
G.O.D.
, and is the sister of
Greg
. Being a so-called expert at Smash Bros, she joins the team of Greg and G.O.D. as they almost began to take over Brawl.
EmoticonWolfXD seems very similar to BlakBerri. Such as both girls say, they are certified smash pros.
She likes making Greg get annoyed at her.
Lamp gives a speech to EmoticonWolfXD and asks her to go to the dance with him. She said yes.